Where We Fish
Known as the small town with the big backyard, Bishop, CA is a quaint town nestled in the foothills of the stunning Eastern Sierras. While you can technically fish in the general Eastern Sierra area year round, the typical trout season runs from the last Saturday in April through to November 15th. However, the Owens River near Bishop is open for fishing year round. The area is home to Rainbow, Brown, and Brook Trout and boasts miles of fishable water with stunning views.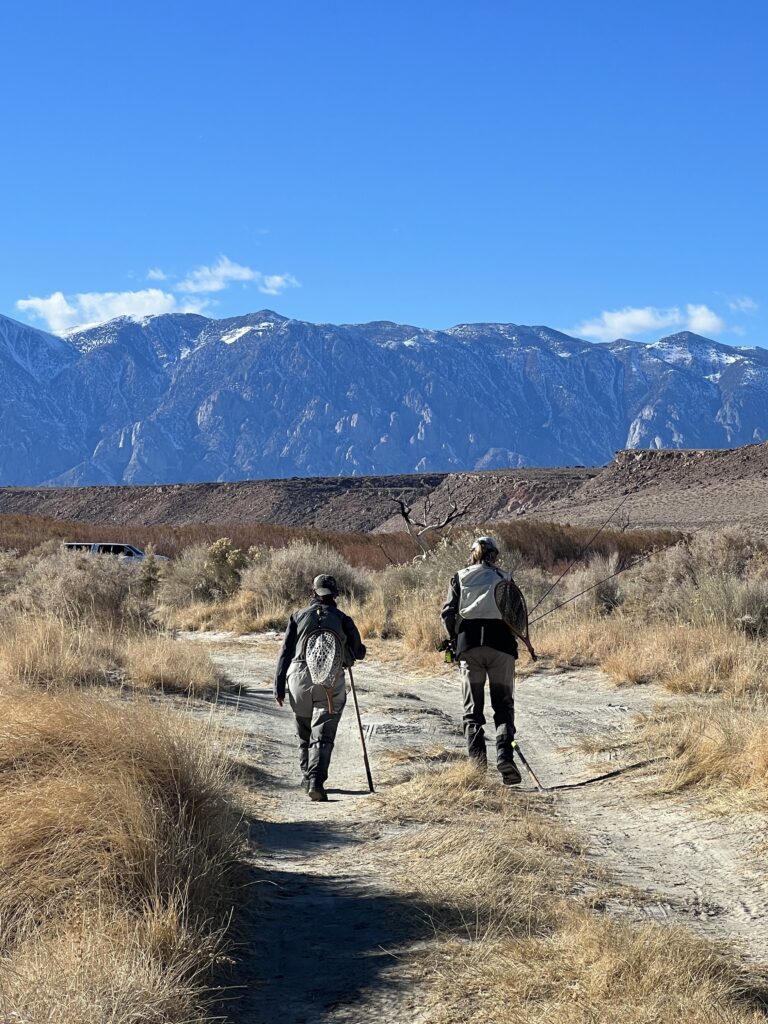 Fly Fishing Trips
Interested in learning to fly fish or want to know where to go and what bugs are working? We've got you covered. Beryl works with anglers of all levels – everything from the basics of casting to fishing more technical waters and improving your technique. Beryl offers both full- and half-day walk and wade trips and, if needed, can provide all the necessary equipment to get you started such as waders, boots, flies, rods/reels etc.
If you are interested in scheduling a trip with Beryl, please contact her via email at trouscout@verizon.net or by cellphone at 760-937-2655.
Fly Casting Lessons
In all Beryl's years of serving as a guide she has found the best way to learn how to cast is by getting out on the water and just doing it! Beryl can show you a number of casts, the scenarios to use them, basic line management, setting up your line and more. While she can offer standalone casting lessons or add a lesson onto a day trip, there really is no better way to learn than by doing.
"Working with Beryl taught me so much about fly fishing. I was always interested in the sport but honestly too intimated to give it a shot. Beryl made everything so much more accessible, easy to remember, and honestly fun to learn! She's patient, knowledgable, and knows the area and its water better than anyone!" — Melinda Schroeder (Los Angeles)